It's Yarmulke-gami!

Why buy bulk quantities of the same ol' kippot, when, for a lot less money and a lot more fun/art, you can craft your own, from paper - and, when the party's over, recycle them! It's Jewish Origami!

Yarmulkegami: E-Z Paper Fold Jewish Art Hats shows you how. to fold almost any paper - newspapers, artisan paper, recycled paper, magazines, scrapbooking paper, old math tests, vellum, wrapping paper, tax returns, origami paper, etc. - into neat kippot, with an inside finish that helps them stay on heads! There are 6 simple paper folding patterns in this book.

You can also embellish the paper, with paint, rubber stamp, collage, and add names and dates to the inside, too.

Artists, paper crafters, origami enthusiasts, mixed media artists, scrapbookers, recyclers, rubber stampers, b'nai mitzvahs, people planning weddings, and people who just want to have fun will enjoy making these paper kippot, plus celebration-related scrap paper projects in this 18 page booklet.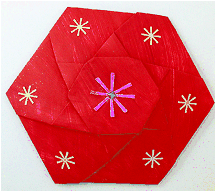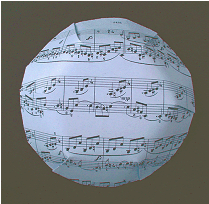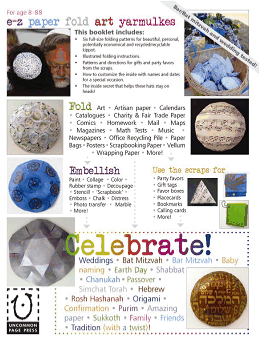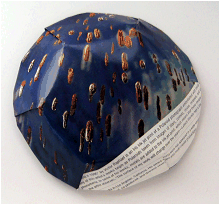 Leaf-flecked artisan paper from Thailand

Handpainted paper with scrapbooking tchatchkes on top, and a brad in the middle.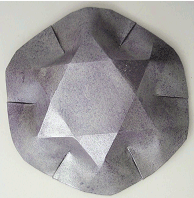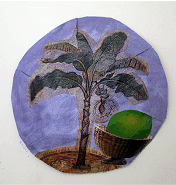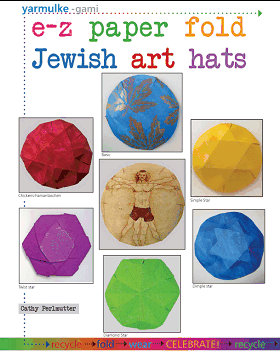 THE BOOKLET IS NOW IMMEDIATELY AVAILABLE as a PDF download, for only $5.95. Please do not redistribute.
Checkout using Paypal. You do not need a Paypal account; to pay by credit card, click the "Continue" link on the checkout page.