Let's

face

it (no pun intended): This hat flatters the face more than the small skullcap kippah. It draws the viewer's eye upward. It stays on heads more easily than small yarumulkes. And, from a crafter/sewer's point of view, there's much more of a canvas for creativity than in a skullcap.

The style is called Bukharan, because it became associated with the Jews who settled around Bukhara, in present-day Uzbekistan, some 2,000 years ago. Their millinery was influenced by their Moslem neighbors. In more modern times, in the west, this shape has been called a "pillbox hat" (a la Jackie Kennedy), or a "smoking cap."

Our beginner-friendly version is a simple pattern - an oval crown and long band - which can serve as a canvas for personal creativity, in the form of quilting, applique, or other embellishment. However, you can also make this pattern without any added quilting or embellishment. Just use wonderful fabric, from denims to silks to recycled family garments. (With light-weight fabrics, it's important to add a layer of fusibe interfacing). Our favorite fabrics for this hat include:

Gorgeous small-to-medium-scale prints with foliage, stars, planets, artsy abstracts, etc. or,
Multicolored batiks, or
Solids or near-solid quality cottons, to show off embellishment.
The pattern features a distinctive small overlap in the back of the band (The overlap can also be rotated to the front). It allows the hat to be sealed to a custom fit. Use an interesting button, tie tack, political button, starship (see left), etc. Choosing the embellishment is the most fun!

This pattern includes:


Three different templates for different size heads (children, adults, and extra large-headed adults);
Clear, complete, step-by-step directions (77 steps, most illustrated, on 19 pages). Beginner-friendly.
Lots of ideas for quilting and applique.
A pattern for the 'Chai Star' crown design to be quilted or appliqued (see navy blue kippah, at left).
An easy interior finish option, and a more elaborate finish that will also allow you to flip the hat over and use it as a decorative bowl!
Price: Just $8.95 for the complete e-pattern. (You print it out.)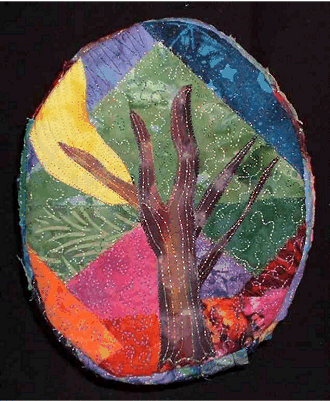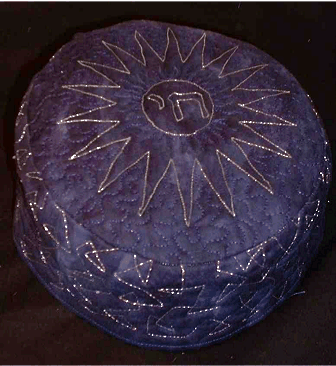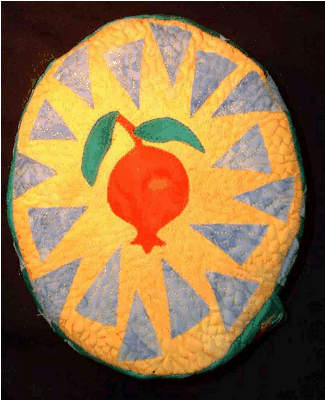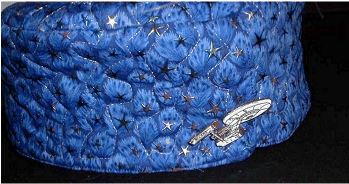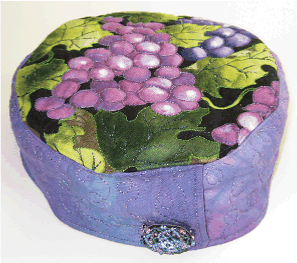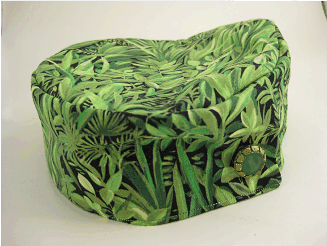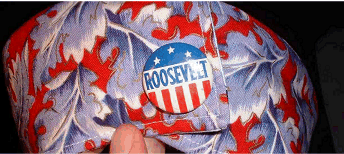 To make this hat you will need:

Featured fabric, at least 1/4 yard*
Lining fabric
Template material (white paper, or transparent template plastic)
A great bead, button, or pin (or tie tack, quilt show pin, brooch, earring, etc.), to seal and embellish the band overlap
Sewing machine thread, for construction.
Temporary fabric marker.
Quilted version only:

Cotton batting,
Thread for quilting.
Unquilted version only:

Fusible interfacing for a light to medium weight version
Press cloth
Scrap paper
IronCleaner and rag.
Formal inside finish only:

Washable glue stick
An extra 1/4 yard of lining fabric
NECESSARY TOOLS
Iron and ironing board. Zig-zag sewing machine. Yardstick or long clear acrylic ruler. Straight pins. Fabric scissors. Scissors for cutting paper. Hand sewing needle.

OPTIONAL TOOLS
Rotary cutter and mat. If machine quilting: Walking foot and/or free motion foot. If adding apppliques: Paper backed iron-on fusible web, and assortment of fabrics which contrast with featured crown fabric.

(*Exact quantities are explained in the pattern).