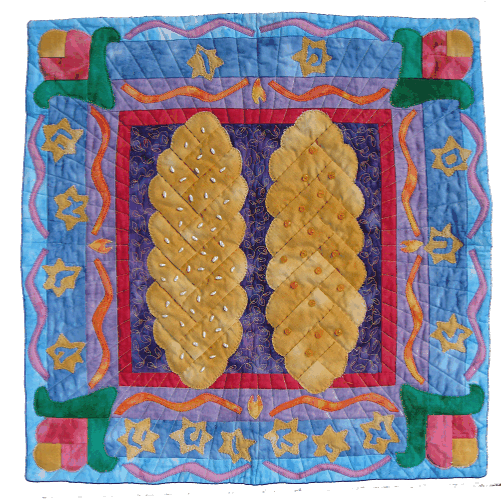 As a bread cover or wall hanging, this 18" x 18" quilt will help create a Sabbbath mood in your log cabin! (or condo, apartment, house, loft, etc.)

Simple, fun 'log cabin' piecing
Beginner-friendly; Learn piecing, applique and quilting basics
Clear step-by-step directions. Thirty-one pages, with more than 70 illustrations!
Easy machine applique with fusible web and interfacing.
Quilt and raw-edge applique at the same time.
Piece on any zig-zag sewing machine. (Hand piecing of the challah and the flowers is NOT recommended). Quilt by hand or machine.
Simple pillowcase finish (no binding necessary).
Full-size templates included. Just print them out.
Makes a unique and treasured gift for a wedding, anniversary, bar/bat mitzvah, housewarming, etc.
Materials


FABRIC

- Medium Gold: ¼ yard (9" x 40"), or a fat quarter (18" x 22"), for the challot, stars, and flower tips.
- Dark Purple:An 11" x 11" square, for the area behind the challot. (A fat quarter is more than enough).
- Red: 1/8-¼ yard, or a fat quarter, for the first border.
- Medium/ DuskyPurple:¼ yard or a fat-quarter, for the second border.
- Medium/Dusky Blue: ¼ yard or fat-quarter for the third border.
- Orange: An 8" x 8" square for the inner wavy lines.
- Sky Blue: ¼ yard for the outer border. (I also suggest this fabric for the backing - to do that, start with ¾ yard.)
- Yellow: A 3" x 3" square, for the four candle flames.
- Lavender: An 8" x 8" square, for the outer wavy lines.
- Rose/Pink: 1/8 yard (or a 21"x 2 ½" strip, or a fat quarter) for the flowers.
- Dark Green: ¼ yard or a fat quarter for the leaves. The shade should contrast strongly against the medium blues and purples.
- Backing fabric, ¾ yard or a 21" square. (I suggest using the same sky blue as in the final border.)


THREAD

For Piecing:


- Gold all-purpose cotton or cotton-poly thread that matches the challah fabric color.
- Medium grey cotton or cotton poly thread for piecing borders.
For Applique/Quilting: Choose from
- Decorative rayon threads, in light gold, dark purple, orange, dark green and lavender, in shades close to those fabrics, and/or
- Clear/ invisible monofilament thread and/or .
- Gold metallic thread, and/or
- Sulky opalescent sliver metallic (#145-8040).
- Blue thread that matches the outermost border for topstitching.
For Embellishment:
- Strong beading thread (only if you will add seed beads to the challot.)


SEWING SUPPLIES AND NOTIONS

- Zig-zag sewing machine and iron are required. A rotary cutter, acrylic ruler, and cutting mat will make this project easier, but scissors work, too
-Low-loft batting, ½ yard (22" square minimum). Recommended: Warm'n'Natural® 100% cotton 'craft size' (34"x45")
- Fusible interfacing, ½ yard white light-to medium-weight, such as Pellon ®
- Paper-backed fusible web, ½ yard light to medium-weight (for the lettering)
- Fresh glue stick, for fabric or paper, marked "Washable"
- Temporary fabric markers, such as the blue washout fabric marker, or a sharpened chalk pencil
- Hand-sewing needle
- Pins, both safety pins and straight pins
- Clean scrap paper, or an applique pressing sheet, or parchment paper
- Scissors: Sharp small scissors and paper scissors are required. (Large fabric scissors are necessary if you don't have a rotary cutter.)
- Beads which look like seeds, raisins, or something else that might be found in challah! (See p. 27)
- Beading needle, if tiny beads are used
- Spray starch
- Iron cleaner in case of fusible accidents!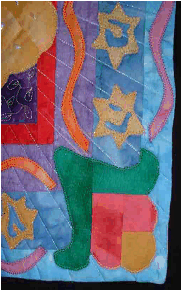 Available ONLY as an e-pattern,

for just $8.95

. After you purchase it, you will receive instructions for downloading the pattern on your own computer. You can buy it on this page (using the buttons below), or from our Patterns and Books page.