When feeling stressed, aggravated and overwhelmed....and it's only Tuesday...and you don't want to make any big decision but you really do need to sew....

Then it's time to make a stencilled, fat-quarter* challah cover. This finite project can provide a taste of Shabbat peace any day of the week, without the extra carbs (e.g. the actual challah. Only the quarters are fat? Oh, never mind!)

It helps to have some stencils lying around. I used my computer to make the cardboard stencils for a Temple retreat class that my friend Suzy and I taught a couple of years ago. (Note: Since this essay was written, I've developed a consolidated stencil that has the words and images together. It's available for sale on my Patterns and Books page.)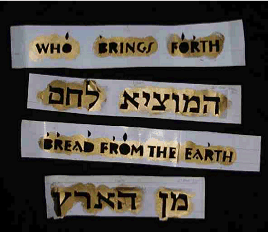 They're words from the last part of the Ha-motzi, the blessing over the bread, a phrase that is translated as: Who brings forth bread from the Earth," in Hebrew and English (Hamotzi lechem min ha-aretz).

Then I set about about sketching wheat plants, trying to come up with something that would vaguely resemble the Hebrew letter "shin" (which is the start of "Shabbat" and of "Shalom!"). (Here's what a non-vegetative shin looks like</a>.)

The idea was to incorporate my wheat and word stencils into a design that would fit on a fat quarter. I wanted it to work as a wall hanging as well as a challah cover.

The wheat was easy enough to cut into a stencil! No, seriously, it really was! (I printed it out, glued it to oaktag, and used an x-acto and/or scissors to cut it out.)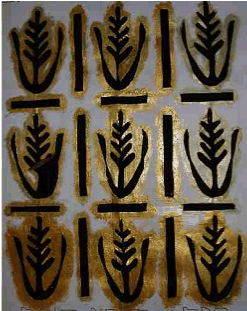 When feeling uneasy, I can now simply toss through my stash for a gorgeous, naturey, impossible-to-cut-up fat-quarter. With high-contrast paint, dab through the stencil holes. Add batting and backing, Quilt around the painted or appliqued shapes, add a binding, and it's done!

For the cover below, I started with a beautiful piece of green, hand dyed fabric, and stencilled gold paint onto it. I left off the English letters (don't ask).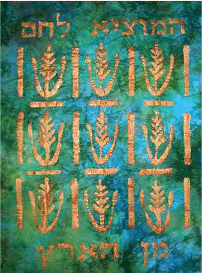 For the challah cover at the top of this article, I started with plain white fabric. I then stencilled on a bronze metallic craft paint. Waited for it to dry, heat set with an iron. Then wet the fabric, and paint on diluted, transparent Setacolor paints. The bronze paint acts as a resist.

Below, I used the cutouts (the pieces removed from the stencils.) I painted around them with metallic paint. Again, the wash of Setacolors was the last step.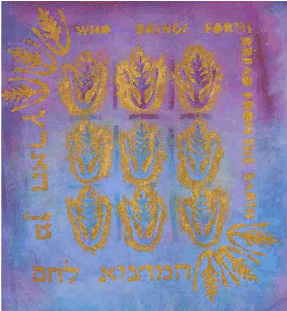 I have a thing for violets and blues (can you tell?)
The next one, using a slightly different wheat plant, I painted through the stencils onto a spectacular gold-overprinted batik. Edges were outlined with machine quilting. Click image for a detail.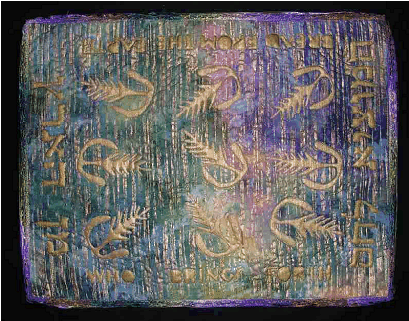 For the last cover, below, I traced the lettering stencils with water-erasable pens, and hand-stitched the outlines with embroidery floss. Commercial scrapbooking stencils were used to create the cosmic details (the swirl, lightening, raindrops, sun, etc.) A gorgeous gold-overprinted batik was fused to the center. This last version is a very beginner-friendly project, and doesn't even require a sewing machine.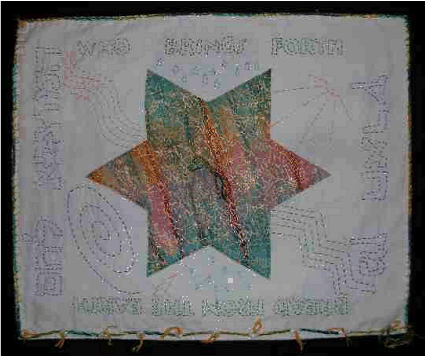 Yummy ribbon yarns were couched around the edges of the 2nd and 3d covers.

So next time your soul needs solace, try playing with stencils, paints, fabrics and fibers, while thinking about Shabbat. You'll be amazed at how much better you feel!

NOTES:
* A 'fat quarter' of fabric measures about 18" x22" before washing, a little less afterward. It is very different from a regular 'quarter yard' of fabric, which at 9" x 42", is more of a long strip, and would only cover a cruller.


My Log Cabin Challah Cover Pattern is finally available. This is an ideal project for a new quilter, as well as for veterans! Click here for more information! (or go to my 'Patterns and Books' page.)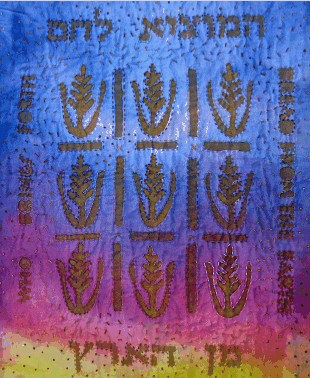 Shabbat peace, without the carbs: